VIOLAS
We are dedicated to providing individual service to all of our customers in order to help in the decision making process.
We offer an excellent selections of instruments to help you find the viola that suits your needs. From antique to modern, we hold our instruments to the highest standards while still offering an exceptional value. All of our Violas are hand carved and varnished using only the best quality materials. Every viola is completed on-site by our expert luthier to ensure superior quality. We customize each instrument to match the individual player's ergonomics free of charge.
Muni Strings backs all violas with a life-time guarantee. We guarantee all instruments to be free of defects in craftsmanship or materials. We care about our customers and our job is not complete until you are satisfied. Our antique instrument collection includes a variety of beautifully restored European instruments. Please contact us for current availability.
What Makes Our Instruments Better?
Superior Quality Materials
Expert Workmanship
Free Customization
Lifetime Guarantee
All Adjustments & Repairs Completed On-Site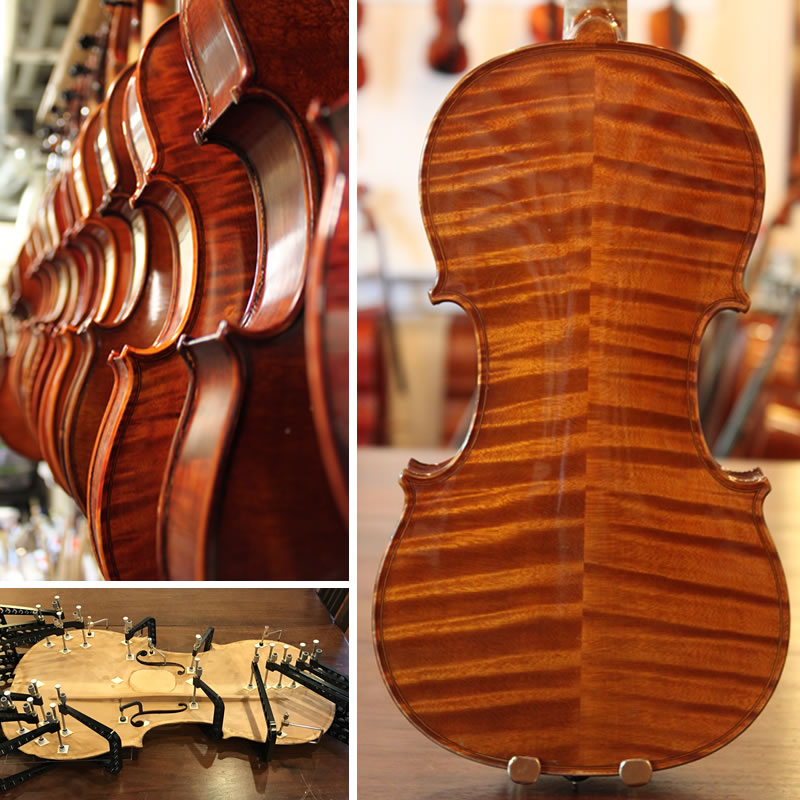 Viola Sizes Available:  16.5″ – 12″
Accessories
We offer an extensive selection of accessories for violin, viola, cello and bass, as well as some commonly needed books and accessories.
| | |
| --- | --- |
| Essential Elements 2000 for Strings | Music Stands |
| Essential Technique 2000 for Strings | Metronome/Tuners |
| Suzuki Method Book & CD Series | Shoulder Rests |
| Endpin Straps | Rosin |
| Strings | Cleaning Cloths |
While we try to keep a variety of brands on hand, if you need a specific string, type of rosin etc. please let us know. All string purchases ship free.
In addition to music accessories, we also offer a wide selection of unique musical gifts and jewelry including music bags, magnets, coffee mugs, ornaments, earrings, necklaces and much more.
Take Home Trials
Our goal is to help you find an instrument that meets the needs of the player, parents and teacher while staying within your budget.
For that reason we have a wide variety of instruments in each price range for you to try and evaluate. Once the instruments have been evaluated in our shop, we also allow you to take the top choice home for a free in-home evaluation. This allows the musician to further evaluate the instrument in different environments, get teacher feedback, and relieves pressure from the decision making process.
We offer free in-home trials to local residents for up to 7 days. The instrument and/or bow must be returned to Muni Strings in the same condition as when the trial period began or repair charges may apply. It is important to note that the individual taking the instrument or bow on trial assumes full responsibility until the items are returned to Muni Strings.
If the items taken on trial are not returned the items must be paid for in full. If more time is needed for trial, please call us to make further arrangements.